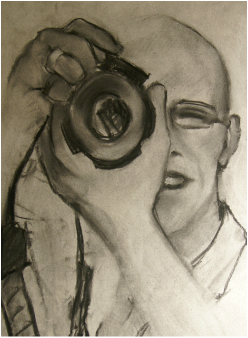 In 1980, with about much foresight you can have as an 8th grader, I listed "photographer" as my future occupation of choice. Fast forward 29 years- and with the exception of 2 years of "participation" in a High School photography class (I won't say "study"- because I don't remember any of it from that long ago), I did nothing to make that happen.
In 2009, I bought my sister's gear when she upgraded, and the flame was ignited.
With a 29 year hiatus, it's now a passion- and unequivocally more important- soul rewarding part of me. To get lost behind the camera for a few hours is the best release there is. To be able to share those images with people is the second best; after all, what good is a great picture if no one can see it or enjoy it? I was the "unofficial' photographer for the Novi High School Marching Band and Music program, and I am the official photographer for the The Motor City Brass Band. As a member of the Artists's Society of Dearborn, I have had works displayed in the Rotunda Gallery inside the Henry Ford Centennial Library and the Padzieski Art Gallery, both in Deaborn Michigan. These works have been adjudicated by professional photographer Monte Nagler , Prof. Steven Glazer, Instructor Of Art at Henry Ford Community College, and renowned Michigan artist Leo Kuschel. I have also had images on display in the patient gallery at Garden City Hospital, and been published in the Oakland Press, The Patch, and Novi News.